Survival kit for the hospital
Don't let yourself go when the baby arrives! Beauty and motherhood are completely compatible: you can fight signs of fatigue and show off a flawless complexion at the hospital. And why wouldn't you want to look the best you can as you celebrate the incredibly precious moment of childbirth and meet your baby for the first time? Especially when all it takes is packing just a few extra skin-saving products in your hospital maternity bag, which you can well prepare in advance! Mums-to-be, get ready to discover the top beauty essentials you should have in your maternity bag.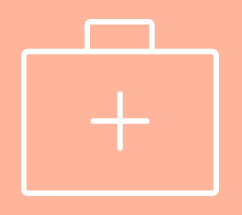 The perfect gift to pamper both mums-to-be and new mums:
Whether it's a gift to yourself or a loved one, Clarins helps you carefully prepare the perfect gift for the mum-to-be or new mum in your life. The Beautiful Mother-to-be Set is ideal for those who don't want to stress over picking and choosing beauty products to pack in their hospital maternity bag. It already comes with all the maternity beauty essentials you need! From moisturising treatment oils and body toning products to stretch mark creams, Clarins can have you looking positively radiant as you begin the next beautiful chapter of your life as a new mum.

Boosts complexion
radiance
Tones the body

Relieves and
refreshes tired
legs

Enhances lips
Baby's first
cuddly toy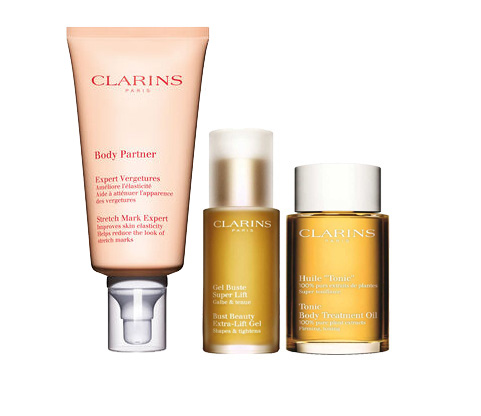 SG Beautiful Mum Set 2017
N/A
What facial beauty products should new mums have in their maternity bags
A dull complexion, drawn features, and dehydrated skin are par for the course post-partum. Among Clarins' range of beauty products for new mums, our Beauty Flash Balm is an absolute must to pack in your maternity bag. The ultimate pick-me-up for tired, stressed skin, this best-selling radiance revealer by Clarins instantly erases signs of fatigue – something you will definitely need after hours of labour! The Beauty Flash Balm is specially designed to brighten and tighten facial contours to reveal a rested, relaxed complexion. It is enriched with olive and witch hazel extract to help smooth the skin's surface, as well as soothing bisabolol to further restore the skin's youthful glow.
Puffy and tired eyes are also extremely common among new mums due to lack of sleep during the long process of labour, and it's a tell-tale sign that betrays fatigue. Therefore, you should consider packing a brightening eye cream or serum in your pregnancy bag, such as Clarins' Total Eye Lift Cream. Gently dab a small amount around the eyes: it's the ideal solution for tired-looking eyes and dark circles.
Olive tree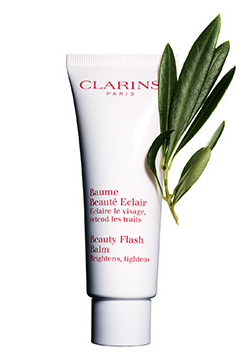 Beauty Flash Balm
And what about the body?
If you have stretch marks, a stretch mark body lotion is great to have on hand in your maternity bag. Applied with gentle circular motions to the thighs, tummy, and breasts, Body Partner helps you reduce the look of the stretch marks that may have appeared in the last months of your pregnancy. Follow the application method for the best results and to restore your sense of well-being.
You can also attain a feeling of well-being and comfort by using Eau Dynamisante Spray. It is the first Eau de Toilette that combines the fragrant pleasures and healing powers of plants in accordance with the principles of aromatherapy and plant therapy!