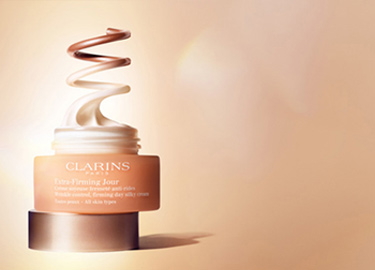 EXTRA-FIRMING
From skin firmness, springs youth.
The Extra-Firming range returns in 2019 with Extra-Firming Day and Night Creams and Eyes, a dynamic combination that gives an instant lifting effect.

BACK TO BASICS
What is Extra-Firming?
It's a skincare range that visibly improves the effects of reduced firmness, including small wrinkles in the corners of the eyes and a less defined facial contour.
How does it work?
The following ingredients work to visibly improve the skin's elasticity and firmness:
Organic mitracarpus
Targets firmness connections and collagen production
Kangaroo Flower
Targets nests of young cells to stimulate them and compensate for their dwindling numbers.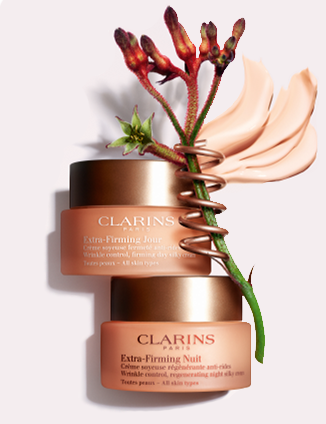 Extra-Firming
Visibly firms, lifts, fights wrinkles
Clarins' age-defying moisture duo works day and night to leave skin looking smooth, firm, radiant more renewed, day after day:
Visibly firms and lifts
Smoothes the appearance of lines and wrinkles
Targets dark spots to even skin tone
Contains Clarins' Anti-Pollution Complex
Kangaroo Flower
Clarins ethnobotanists traveled to Australia to study age-defying Kangaroo Flower—a plant known for its visible firming and wrinkle-fighting properties.
Organic Mitracarpus
A new plant discovery from Burkina Faso—Organic Mitracarpus promotes skin suppleness at its source by visibly boosting elasticity and firmness.
Slide to discover the effects of Extra-Firming
Over 90% women agreed Extra Firming Day and Night Cream is effective to improve skin firmness.
*Satisfaction test –Extra-Firming Day All Skin Types & Extra-Firming Night All Skin Types –103 women –14 days.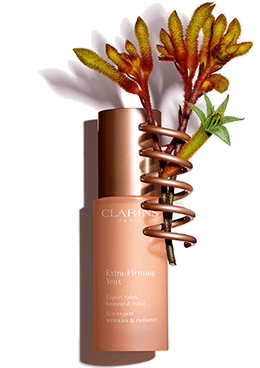 Kangaroo Flower
Extra-Firming Eyes
Expert wrinkle, firmness and radiance care
This 2-in-1 intensive eye contour care combines the smoothing effect of a serum with the comfort of a balm.
How does it work?
In addition to organic mitracarpus and Kangaroo Flower extracts, which help to promote the regeneration and firmness of the skin, Extra-Firming Eyes is enriched with active ingredients selected for their effectiveness on the eye contour area:
Persian
silk tree
Helps to reduce the appearance of puffiness and age-related dark circles.
Horse chestnut
Recognised draining action, helps to further reduce the appearance of puffiness and dark circles.
Slide to discover the effects of Extra-Firming
Over 80% women agreed Extra Firming Eye Cream is effective to reduce fine lines and wrinkles.
* Clinical tests, 4 weeks *33 women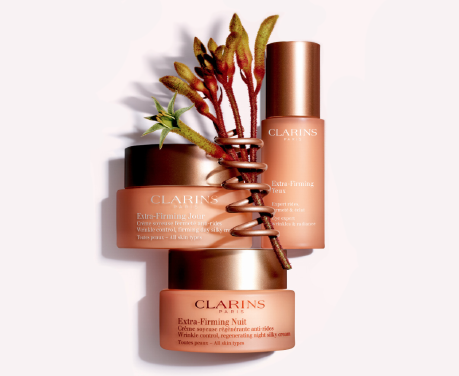 Kangaroo
flower
Firming routine
My skin is more...