24 Day
Advent Calendar
24 skincare or make-up surprises to make you more radiant during the holiday season!
HK$650
(Worth HK$2,170)
SHOP NOW
Available in-store from Nov 1st.
Set includes:
Face Care 10pc
Beauty Flash Balm 50ml • Extra Firming Mask 15ml • Hydra-Essentiel Replenishing Lip Balm 3ml • Hydra-Essentiel Silky Cream 15ml
Hydra Essentiel Reviving Eye Mask 5ml • One-Step Gentle Exfoliating Cleanser 30ml • SOS Pure Mask 5ml
SOS Comfort Mask 5ml • Comfort Scrub 5ml • Blue Orchid Face Treatment Oil 2ml

Make Up 8pc
Mascara Wonder Perfect 4D - Black 8ml • Instant Light Lip Comfort Oil 04 Candy 7ml • Instant Eye Makeup Remover 30ml
Joli Rouge 705 (Soft Berry) Mini 1.5g • Lip Perfector 01 rose shimmer 5ml • Water Lip Stain 03 Red Water 2.8ml
SOS Primer 00 Universal Light 5ml • Instant Smooth Perfecting Touch 4ml

Body Care 6pc
Tonic Bath & Shower Concentrate 30ml • Tonic Body Balm 30ml • Foot Beauty Treatment Cream 50ml
Moisture Rich Body Lotion 30ml • Exfoliating Body Scrub for Smooth Skin 30ml • Hand and Nail Treatment Cream 30ml
24 skincare or make-up surprises to make you
more radiant during the holiday season!
The game is simple: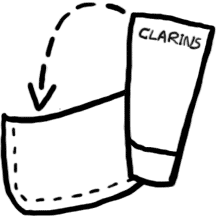 1
Place the 24 surprises in your advent calendar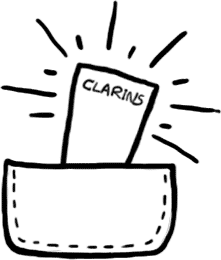 2
Discover an iconic Clarins product every day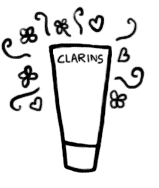 3
Give in to the soothing fragrances and our delicious textures
A calendar to love and play with every Christmas!
For Clarins, Nature is an endless source of inspiration.
This eco-friendly calendar is made of natural fibers and wood.
The 24 doors are printed with non-polluting vegetable ink and the cardboard comes from sustainably managed forests.
It is 100% recyclable and most importantly can be used year after year!
Terms & Conditions:

The 24 day Advent Calendar is available at Clarins.com exclusively during Oct 23-31, 2020. Available in-store from Nov 1, 2020. While stocks last.
CLARINS LTD reserves the right of final decisions in case of disputes.